It's widely understood that excessive leverage and greed set off the 2008 financial meltdown. But Sallie Krawcheck believes another force was at play: Wall Street's stark lack of diversity.
Krawcheck, a senior executive at Citigroup (C) and Bank of America (BAC) at the time of the financial crisis, said the white male-dominated trading floors and C-Suites led to groupthink that backfired, badly.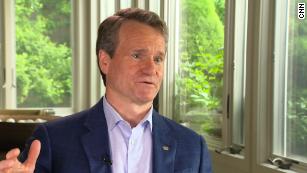 CNN Business exclusive: Bank of America CEO warns about excessive corporate debt
"Can you imagine if it was 50% females? Do you think the financial crisis would have been worse? Nobody does," Krawcheck told CNN Business on Thursday from the sidelines of the Fortune Brainstorm Finance conference in Montauk, New York.
Krawcheck, now the founder and CEO of Ellevest, an investment platform that caters to women, cited research that shows homogeneous teams trust each other too much and high levels of testosterone can lead to elevated risk taking. And other research, she said, suggests that when there are a majority of one kind, such as white men, they tend to show off for each other.
"I saw a lot of that on Wall Street," Krawcheck said.
Krawcheck, who left Citigroup in September 2008 a week after the implosion of Lehman Brothers, said Wall Street's lack of diversity only added to the problems caused by excessive leverage and greed.
"Another cause of the financial crisis is not enough cognitive diversity," Krawcheck said during a panel conversation at the Fortune conference. "Not enough people with very different backgrounds looking at things in very different ways."
Women and minorities are under represented in finance
Just 29% of senior-level managers were women in 2015, according to a report published by the Government Accountability Office in late 2017. And minorities represented just 12% of those senior-level positions, the GAO found.
None of the major Wall Street banks have ever been led by a woman.
In April, US Representative Al Green, a Texas Democrat, asked the CEOs of seven major banks — all of them white men — to raise their hands if they believed their "likely successor" will be a woman or a person of color. None of them did.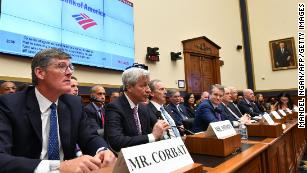 Kevin Hassett applauds Democrat for calling out lack of diversity among bank executives
"Wall Street isn't interested in changing," Krawcheck said.
Krawcheck urged the financial industry to diversify because it makes business sense to — but she isn't optimistic that it will happen.
"One way to reduce the volatility on Wall Street, the research tells us, is to have more women," she said during the interview.
When will Wall Street's #MeToo moment arrive?
Krawcheck recalled experiencing sexual harassment firsthand while working in finance. She didn't report it at the time.
"In the early years, it was rampant," Krawcheck said. "I was literally told, 'Sit down and shut up.' That's Wall Street."
After starting as an analyst at Sanford Bernstein, Krawcheck eventually became Citi's chief financial officer and eventually the CEO of Bank of America's Merrill Lynch. The sexual harassment faded as she rose up the ranks.